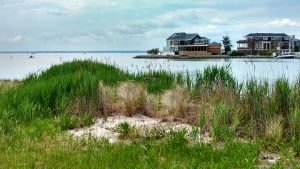 Having a NJ vacation home to escape to in the summer is nice. But since you probably spend more time at your primary home during the rest of the year, keeping your beachfront property safe can be tricky – especially if you are not renting it out on a weekly basis. Securing vacation home maintenance services to keep an eye on your property can relieve the stress of not knowing what's going on at your beach house. 
Most insurance companies will require that someone check on the property at specific intervals, which can be burdensome for absentee homeowners. Whether you're away for several weeks or several months, don't leave your property to chance. At Air Tech, our vacation home maintenance services include a house watch concierge service that ensures your home remains secure and functioning while you are away. 
Keep Your Home Sweet Home Secure
Did you know that your home could be considered "vacant" if it is left empty for 60 or more days, according to the National Association of Insurance Commissioners? If left unoccupied, you could risk potentially voiding your homeowners insurance in the process. That's because whenever a home is uninhabited, the property is at a greater risk for weather-related damage, fire, break-ins and theft. For example, if the hot water heater starts leaking, or the plumbing backs up, extensive damage can occur because no one is there to call for emergency repair services.
Hiring a house watch company to administer weekly home maintenance services and make a vacation home more secure will mitigate the risk of something happening to it and reduce the chances of a claim. Let's face it, beach house insurance rates are already high enough. Staying claim-free will be vital to keeping the costs of your insurance premium down.
Home Maintenance Services in New Jersey
Whether your home in Long Beach Island is a vacation home or a primary residence, it is important to know that it's safe and secure while you're away. Monmouth County and Ocean County residents have been turning to Air Tech as a trusted provider of vacation home maintenance services since 1999. 
Our reputation has helped us become one of the most trusted and experienced house watch service providers in the area. With a team of highly trained and qualified professionals, we'll provide the ultimate house watch solution for your LBI property. From interior and exterior inspections to handling deliveries and maintenance calls, feel confident knowing your home is left in good hands. We have provided a list of Concierge Services, but along with our standard services, we also provide many of our clients custom services. If you don't see a service that you need, just ask us. Whenever you need us, we will be there for you. 
When you hire Air Tech Home Maintenance Services, you can relax and have peace of mind knowing that your home is properly maintained and protected. Review our service area and contact Air Tech to find out more about our comprehensive vacation home maintenance services or to schedule an appointment. As a local, family-owned company we know the importance of quality service and dependability to our customers. That's why we offer competitive, flat-rate pricing and warranty-backed repairs. 
 Contact Air Tech, your local House Watch Concierge company, at 609-494-1400 for all home maintenance services!