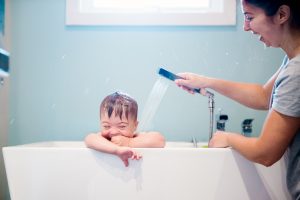 Unseen shouldn't be an excuse for unclean. If your drain has been running slow lately or is damaged, the Air Tech Plumbing experts provide a range of comprehensive drain cleaning services for residential and commercial customers at a very affordable price. Available for bathroom, kitchen and outdoor drain cleaning, our licensed plumbers provide preventative drain cleaning services, as well as 24/7 emergency plumbing repairs. 
Residential and Commercial Drain Cleaning Services Done Right
Clogs aren't something you should ignore. Drain cleaning helps to keep your home or place of business free of clogs, bacteria, mildew, mold, flooding and other property damage. Addressing the issue right away can help to prevent bigger plumbing problems (and that nasty mess) in the future. 
With drain cleaning from LBI's Air Tech experts, we'll help you get rid of whatever has accumulated in your pipes. Residential and commercial drains often experience obstructions due to food waste, detergents, toilet paper, hair, mineral buildup or tree roots. Homes on LBI, in particular, often face a buildup of sand in their shower and bathtub drains. So, if you notice your drains backing up, it's important to fix the problem before a major repair becomes necessary. 
Drain Cleaning Services for Kitchen, Bathroom or Outdoor Drains
When it comes to plumbing, Air Tech leads the way in customer service and satisfaction. As a local, family-owned company, we have built a solid reputation for honest, reliable and superior service. Whether you have a clogged kitchen sink, a slow bathtub drain or stopped up outdoor drain, our team is ready to assist you with: 
Bathtubs

Showers

Washer Drains

Kitchen Sinks

Floor Drains

Utility Room Drain

Outdoor Shower Drains

And More.
Since 1999, we have been providing fast and friendly service – done right the first time. No matter how small or complex, our trustworthy team is here to help!

Air Tech Can Help With Your Drain Cleaning Needs
Air Tech is New Jersey's best for a reason. We utilize video inspection technology to check your drain lines, eliminating time-consuming and costly guesswork. With our state-of-the-art equipment, our technicians are among the best drain cleaners in New Jersey and will remove any unwanted debris, while ensuring your drains stay clean, with plumbing maintenance services. 
If you still have questions or would like to schedule your drain service, give us a call for a free, no-obligation estimate. We offer the best plumbing services around the clock for your convenience!