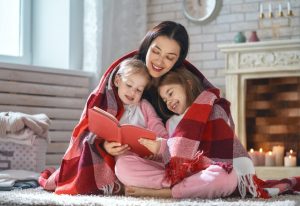 Dry, itchy skin? Splitting woodwork? Even though winter gives us a break from the hot, humid weather we typically experience in New Jersey, the cold weather brings its own challenges: a lack of humidity and dry air in our homes. Proper humidifier coverage can help.
Improve Your Property's Air Quality with Sufficient Humidifier Coverage
Adequate humidifier coverage in homes prevents physical discomfort and nuances brought on by winter heating. From dry nose, lips and skin to static electricity and splitting woodwork, dry air can take a toll on your body and your property. 
Finding a balance of humidity is key. Too much can make your space feel hot and uncomfortable. Too little can create skin irritations and even damage your home. 
Wondering what the optimal humidity level should be? According to the United States Environmental Protection Agency (EPA), indoor humidity levels should be between 30 and 50 percent. Humidity levels above 60 percent are too high.
Need an answer to your dry, winter problems? 
One of the best and most efficient ways to avoid those issues and enhance your overall indoor air quality is by properly adjusting your humidifier coverage. The experienced team at Air Tech can help install a whole-house humidifier, set up the right humidifier coverage, as well as handle all maintenance and repair needs.
Benefits of a Whole House Humidifier
Obtaining the right humidifier coverage can be done directly with your heating and cooling system. Your humidifier introduces water vapor directly into your air ducts, which creates more comfortable air in your home or business, allowing occupants to breathe easier. As with temperature regulation, the humidity level is monitored and controlled directly from a thermostat, which ensures that moisture levels don't become too high or too low.
Some more benefits of proper humidifier coverage in your home or office include: 
Health

. Regulating the humidity in your home can help prevent dry skin, relieve allergy symptoms, prevent snoring and even reduce the incidence of many illnesses. 

Preservation

. Humidifiers can be helpful around the home or office by preventing static electricity build-up, as well as wood floor and furniture cracking.

Energy Efficiency.

Installing a whole house humidifier can help occupants feel more comfortable at lower temperatures, which allows you to decrease the thermostat by a few degrees without losing any comfort. This not only saves money on your utility bills, but also extends the lifespan of your HVAC unit. 

Ready to breathe better air? Call Air Tech Today
If you, your family or your staff are suffering from issues related to dry air or imbalanced humidity levels, contact Air Tech right away. We can determine which humidifier coverage solutions is best for you and your home or commercial property. Air Tech's experts are knowledgeable on a wide range of humidifiers and can provide you with a variety of options suited for your sized property…and budget.
Since 1999, the team at Air Tech has been providing fast and friendly service throughout Monmouth and Ocean County, NJ. We pride ourselves on getting the job done right the first time. No matter how small or complex your project is, our trustworthy team is here to help!
If you still have questions or would like to schedule installation or humidifier coverage services, give us a call at 609-246-5905 for a free, no-obligation estimate. We offer the best HVAC, Plumbing and home comfort services in NJ.