Reliable repair and maintenance services for your baseboard heating equipment in NJ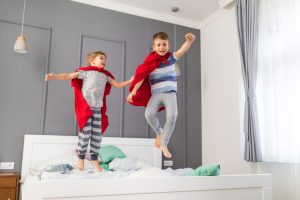 If you have a baseboard heating system in your home or business, you already know how quiet, safe and efficient they can operate. Although today's systems are much more reliable than older systems, baseboard heat repair and maintenance will still be necessary from time to time.
When you want the best HVAC contractor in LBI for your baseboard heater, Air Tech is at your service. We provide professional baseboard heat repair and maintenance services for customers throughout LBI and the Ocean County, NJ area. Air Tech prides itself on getting the job done right the first time and every time. With a fully stocked fleet of trucks available 24/7, we can repair and maintain just about any type or brand of heating system. All you need to do is give us a call.

How Does a Baseboard Heat Systems Work?
Both types of baseboard systems, hot water and electric, classify as radiant heat systems. This means that they warm a space by convection. Typically found under windows, they draw in the cold air, warm it up and release it back into the space. Once the desired temperature has been reached, the heater turns off.
Hot Water Baseboard Heat Repair and Maintenance
Hot water baseboard heaters (also known as hydronic baseboard heat) are highly efficient and cost-effective. They work by heating water to a desired temperature, which in turn heats the air in each room. This means that the water, heated from a boiler, is circulated throughout the entire system in your home and remains warm for a long time.
Hot water baseboard heaters are energy efficient and provide a comfortable heating option for residents and businesses in the coastal Long Beach Island climate. However, like most equipment, regular maintenance will be necessary to ensure the boiler supplies the necessary hot water.
Electrical Baseboard Heat Repair and Maintenance
Chances are, if you only have a few baseboard heaters (and not throughout your entire home), it's probably an electrical baseboard heating system. Standard electric baseboard heaters are not as efficient as a hot water baseboard heater when it comes to heating an entire home or business because they don't retain heat for as long. But, they're a good supplemental heating source for individual spaces, like room additions, converted garage, etc.

Baseboard Heater Repair
Baseboard heaters are extremely efficient. Still, as with any appliance, it's normal to encounter an occasional problem.
Whether your heater won't start, you're experiencing uneven temperatures or notice unusual smells, call Air Tech to assess and repair your issue right away! We offer residential and commercial repairs 24-hours a day, 7-days a week. Call us to get service any time of day or night!
Baseboard Heater Maintenance
A clean baseboard heater doesn't just look nicer it also works much more efficiently. More efficiency, means less energy, which means lower bills!
Over time, dust, debris and hair can accumulate (especially if you have pets). We recommend cleaning and checking your boiler annually. The best time for maintenance is usually before winter, to ensure your baseboard heater will run smoothly for you throughout the coldest months. Regular maintenance checks will not only boost efficiency, but also minimize problems and costly repairs.

Why Choose Air Technical Services for Baseboard Heat Repair and Maintenance?
At Air Technical Service Heating, Cooling and Plumbing, we install, replace, repair and maintain heating and cooling systems throughout LBI and the surrounding areas. Since 1999, residents and businesses have trusted our NATE-certified HVAC technicians to get the job done right the first time.
If you need baseboard heat repairs or maintenance or are interested in installing a new unit, call Air Tech today!
Here's why Ocean County chooses Air Tech:
Trusted since 1999
Family-owned and locally-operated
Install, repair and maintain all-sized jobs
Service all major baseboard makes and models
24/7 emergency service, even holidays
Trusted by residential and commercial customers
Punctual and friendly NATE-certified technicians
Service available to LBI and all of Ocean County, New Jersey
Call us now at (609) 494-1400 to schedule your appointment today!