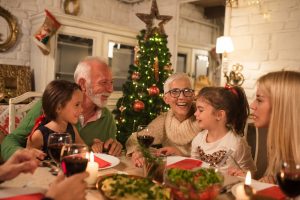 Hosting friends and family in your home this holiday? Or maybe you're planning a party? Either way, you want your New Jersey home to be as comfortable and cozy as possible this season. Are you sure your furnace is ready for the holidays? The best way to prevent getting stuck without heat is to be proactive about maintenance and schedule heating service today.
Schedule Heating Service Before the Holidays
Contact Air Tech at 609-494-1400
Get Your Heating System Ready for the Holidays
If you want your heating system to work in peak condition all winter long, all it takes is a little planning. Before the coldest days of the year settle in (and before your guests arrive), take action!
The first (and most simple step) is to replace your furnace filter. It's one of the most impactful DIY maintenance tasks a NJ homeowner can do, but is also one that's often overlooked. Replace your filter once every season — more depending on your health and lifestyle. Those with allergies or easily irritated skin, for example, may require a more frequent air filter cleaning. Doing this seasonally helps to clear your air and can add years of life to your heating system. 
After those basics are covered, schedule your annual preventative heating service to confirm your system is operating as efficiently as possible. A professional tune-up can help to prevent inconvenient breakdowns (that tend to happen on the coldest days of the year) and ensure your home is comfortable for guests during the holidays.
Residential and Commercial Emergency Heating Service Day and Night…and Even on Holidays
When you're trying to get your home ready for the holidays, a busted furnace might just be the worst possible situation. But before you panic, there are a few quick fixes you can DIY:
First, check your thermostat to see if it's out of batteries or accidentally switched to "cool" (this happens more than you might think). 

If that doesn't do the trick, check to see if a circuit breaker or fuse was tripped or blown.

Next, check that your air filter is clean and in good condition (see above). Clogged filters can drastically decrease air flow making your home feel colder than it should.
If these troubleshooting tips don't help, you could be facing a number of different issues such a problem with the blower motor, belt or other parts, in which case you'll require the service of a professional.
If the temperature in your home or business goes out this winter, we've got you covered 24/7 with emergency heating services from Air Tech — even on the holidays!
Professional Heating Service in NJ
At Air Tech, our technicians are experts in heating and air conditioning maintenance, repair and installation services. As a local, family-owned company, we know the importance of quality customer service and dependability to our customers, especially over the holidays. Service areas include LBI, Manahawkin, Point Pleasant Beach, Toms River and surrounding NJ areas.
Is your furnace ready for the stress of the holidays and cold winter weather? Don't get caught in the cold. Give us a call to schedule heating service today.
Contact Air Tech, your local heating, air conditioning and plumbing company, at 609-494-1400 for all home comfort services!