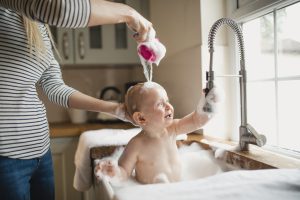 Homeowners can usually handle a simple leaky faucet. Often, however, a kitchen faucet repair turns out to be much more challenging than just tightening some parts. From odd noises to corroded parts, let's take a look at whether you should replace a faucet or repair it.
Plus, how hot is too hot when it comes to water heater temperature? Our expert plumbers at Air Tech reveal the perfect temperature for your tap.
Kitchen Faucet Repair or Replace?
Modern kitchen faucets are better engineered than they were in the past, now lasting a decade or more. The lifespan of your kitchen faucet will depend on what type you have, how hard your water is and what kind of maintenance you perform. While many homeowners choose to replace their faucet when remodeling (usually as an aesthetic decision), many other reasons may lead you to choose a replacement over a repair.
Screeching, squeaking, spraying, clanking…all represent different problems. Let's take a look.
Kitchen Faucet Repair
Fix It: If the faucet is screeching, try to replace the rubber washers.

Fix It: If the faucet is clanking, try tightening up the entire assembly.

Fix It: If the kitchen faucet is squeaky, try removing the faucet handle, coat the threads of the stem with plumber's grease and reassemble.

Fix It: If the faucet spits…rather than streams, it could be a clogged aerator. In that case, simply swap the aerator with a new replacement.
Kitchen Faucet Replacement
Ditch It: If the finish has worn away.

Ditch It: If the handle is cracked or discolored.

Ditch It: If the threads on the aerator are corroded.

Ditch It: If internal parts are so worn out that replacement parts simply won't solve the problem any longer.
How Hot is Too Hot?
When it comes to cleaning dishes, it shouldn't be a scalding experience. Too hot and it can pose a risk for scalding. Too low and you risk potential pathogens.
Check the thermostat on your hot water heater (usually located at the bottom of the tank or along the side panel). Most hot water heaters have a temperature setting that can make water from the kitchen tap reach above 140 degrees F. Lowering the water temperature will not only be more energy efficient, but also safer —  especially with kids or elderly in the house.
So, how hot is too hot? According to the U.S. Department of Energy, most households usually only require water temperatures to be set at 120ºF.
Get Kitchen Faucet Repair or Installation Service
At Air Tech, we provide trusted plumber repair and replacement services throughout Long Beach Island, NJ and surrounding areas. As a local, family-owned company we know the importance of quality customer service, dependability, and on-time service which is why we offer competitive, flat-rate pricing and warranty-backed repairs.
Repairs, replacements, new installations, get the help you need…when you need it. Our skilled plumbers are available 24/7 for emergency service calls for residential and commercial customers.
Our Ship Bottom office is conveniently located on the Causeway, allowing for quick response time to customers' needs throughout Long Beach Island and Ocean County, NJ. Take a look at our service area and contact Air Tech to find out more about our Whole House Plumbing Service Contract or to schedule a consultation appointment today.