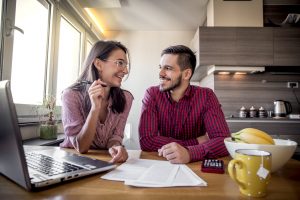 If you're an Ocean County, NJ resident, and you made it through the summer without getting your AC fixed, we have good news for you. Winter is actually the ideal season for AC repairs and upgrades. Since you don't need to use the air conditioner during the winter months, it's less invasive and disruptive to fix your air conditioner now, when it's cold. The AC repair in Ocean County, NJ experts at Air Tech have put together three ways you'll benefit from repairing or replacing your cooling system this winter.
1. Off-Season Discounts
Many purchases made during the "off-season" can result in significant savings and discounts. Air conditioners are no exception. In the height of summer, you can expect to pay full price, but in the winter, you're much more likely to find a sale!
At Air Tech Heating, Cooling and Plumbing, we'll help you research your options so you find the right AC system for your home!
2. Convenient Scheduling
Have you been putting off that AC repair for too long? In the peak of summer, most HVAC companies are swamped with repairs. Often, that results in your scheduling options being limited and inconvenient. However, if you choose to repair or upgrade your air conditioner in the winter, you have more flexibility to get things done on your own time, without having to compromise availability. 
3. Time to Research Your Options
If you're faced with AC repairs in the summer because your current system has failed, every day you wait is another day you have to deal with uncomfortable heat. You likely want a new system as fast as possible —  which means you don't necessarily take the time to research the right AC options for you and your home. 
Avoid the stress of emergency repairs or unexpected breakdown this summer by upgrading your AC in the winter. Now you can take the time you need to research your options and we'll help you discover what you need to stay comfortable, from energy-efficient HVAC units to zoning systems and smart thermostats.
If it has been more than 10 years since you have replaced your AC system, it is probably using outdated technology and is on its last legs. Take the time this winter to think about what you would like in your HVAC, whether it's better efficiency, humidity controls, wireless temperature control or any of the updated features available. 
Air Tech AC Repair Company in LBI and Ocean County NJ
Stay cool this summer by addressing any AC repair and installation over the winter. Also, if you haven't scheduled your heating maintenance yet, you can take care of that at the same time! At Air Tech, our experienced HVAC contractors are experts in both heating and air conditioning maintenance, repair and installation. For all your heating, AC and plumbing needs in the Ocean County, NJ area, call Air Tech.
We take emergency calls 24 hours a day, seven days a week; even on the holidays. Contact Air Tech at 609-494-1400 today.