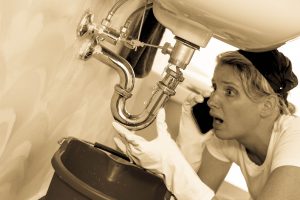 Leaky faucets are one of the most common causes of high water bills. Not only that, but a dripping faucet can also cause problems with dampness and mold. Some leaks can be simple home fixes. Oftentimes, though, kitchen and bathroom sink faucet repair requires the help of a professional plumber to ensure it's done right.
A number of causes can be to blame for a leaky bathroom sink. When the source is not obvious, hiring a licensed pro is essential. Many problems won't be apparent to the untrained eye and require professional repairs. 
Need Bathroom Sink Faucet Repair?
 Contact Air Tech at 609-494-1400 for emergency plumbing services!
Professional Plumbers for Bathroom Sink Faucet Repair
According to the EPA, the average household's leaks can account for nearly 10,000 gallons of wasted water each year. "Old and worn faucet washers and gaskets frequently cause leaks in faucets. A leaky faucet that drips at the rate of one drip per second can waste more than 3,000 gallons per year. That's the amount of water needed to take more than 180 showers!"
The bigger the leak, the more water wasted and the higher the water bill will become. 
For the average DIY-er, it may be difficult to admit "defeat" and call in the plumbers. But, the repair job isn't always straightforward, especially in a commercial setting. Often, it's better to call in a certified plumber to ensure the root cause of the bathroom sink faucet repair is properly identified and addressed the first time (instead of making multiple trips to the hardware store and wasting money on unnecessary parts only to end up making a bigger repair job). 
Don't let that small leak turn into something huge: trust in the professional plumbers at Air Tech to get the job done right.
Turn to the Plumbing Professionals at Air Tech for Bathroom Sink Faucet Repair…and More!
Are you ready to get to the bottom of that bathroom sink leak? Your Air Tech plumber will be able to assess the situation and determine why the bathroom sink is leaking. We offer quality plumbing repair throughout Monmouth and Ocean County, NJ for whatever plumbing issues you may be experiencing. Whether it's something as small as a leaky sink faucet or something as large as replacing a water main at your place of business, Air Tech can help. Don't take risks with DIY jobs-gone-wrong, call us first!
As a local, family-owned company we know how important quality customer service, dependability, and on-time service is for our customers. That is why we offer competitive, flat-rate pricing and warranty-backed repairs for our residential and commercial customers.
Whether you need routine or emergency plumbing services, our skilled plumbers are here to help!
Our Ship Bottom office is conveniently located on the Causeway, allowing for quick response time to customers' needs throughout Monmouth County and Ocean County, NJ. Take a look at our service area and contact Air Tech to learn more about our Whole House Plumbing Service Contract or to schedule a complimentary consultation appointment today.