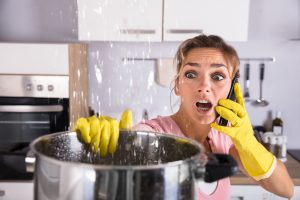 At some point, plumbing repair service will become a reality for most New Jersey homeowners. From water leaks to hot water heater issues, plumbing problems can sneak up at any time.
Fortunately, with some guidance and a little bit of preventative maintenance, many plumbing repair service calls can be prevented. These top NJ plumber tips can help you avoid costly emergency repairs.
1. Be Careful About Your Kitchen Sink
Drains are not designed to handle just anything that fits down it. Often, homeowners may not realize the significance of what is washed down the kitchen sink. Certain kinds of food, including potato peels, grease, coffee grounds, and produce stickers can result in serious damage.
2. Don't Flush That!
Cotton balls, dental floss, Q-tips, feminine products and even "flushable" wipes or cat litter are just some of the many things you shouldn't flush down your toilet. Remember, if it's not toilet paper…or it's (ahem) "partner," don't flush it down your toilet. The solution is simple: put the garbage where it belongs.
3. Protect Your Pipes
Camera scope drain lines are the easiest way to determine the cause and location of present plumbing problems and prevent future emergencies. These valuable inspections are also used for home inspections to determine the condition of the sewer lines and ensure that a buyer doesn't incur any hidden costs.
4. Fix Leaks Immediately
Don't let pipe leaks, or even faucet drips, go ignored. Procrastinating will not only increase your water bill, and potentially damage walls, flooring and furniture, but also put your plumbing system under added stress. Prevent a costly plumbing emergency and get those leaky pipes fixed – just remember to turn off the water supply first!
5. Prioritize Preventative Maintenance
Similar to your annual HVAC inspections, plumbing appliances need maintenance to identify and fix minor problems before they turn into something that requires major plumber repair service. Keep in mind, some repairs can be do-it-yourself, others may require professional service.
Get Plumber Repair Service When You Need It
At Air Tech, we provide trusted plumber repair service throughout Long Beach Island, NJ and surrounding areas. As a local, family-owned company we know the importance of quality customer service, dependability, and on-time service which is why we offer competitive, flat-rate pricing and warranty-backed repairs.
Get the help you need…when you need it. Our skilled plumbers are available for emergency service calls 24/7 for residential and commercial customers.
Our Ship Bottom office is conveniently located on the Causeway, allowing for quick response time to customers' needs throughout Long Beach Island and Ocean County, NJ. Check out our service area and contact Air Tech to find out more about our Whole House Plumbing Service Contract or to schedule a consultation appointment today.