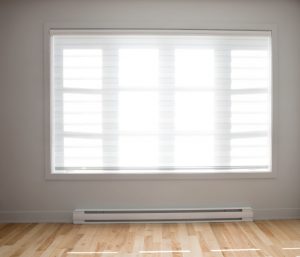 Installing hot water baseboard heaters is one of the most efficient ways to heat your New Jersey home or business. Hot water baseboard heaters are an affordable option to controlling temperature in individual spaces. Plus, they're one of the easiest systems to install, maintain and operate. 
Why Should I Install Hot Water Baseboard Heaters?
The choice to install a baseboard heater comes with a lot of advantages. Let's take a look at three benefits for NJ residents and commercial customers to consider. 
1. Flexibility
Hot water baseboard heaters are flexible. You can control individual room temperatures and eliminate the need to run your primary system all the time. Consider installing hot water baseboard heaters for garage conversions, basements, offices and other spaces that you need to heat directly.
2. Economical
Hot water baseboard heaters do not require ducting in the home or business. As a result, they are an economical HVAC option to consider — especially for remodelling projects or home additions. Additionally, baseboard heaters have a long lifespan — between 16-20 years — requiring little maintenance or repair expenses.
3. Efficient
Precision control is one of the most significant advantages of installing hot water baseboard heaters. They allow you to set specific zones of comfort throughout your home or business. This kind of efficiency allows each occupant to change their environment whenever necessary to maximize their comfort levels. 
How Much Does it Cost to Install Hot Water Baseboard Heaters?
One of our most common questions about installing baseboard heaters is about the installation cost. The price of your system will vary depending on your unique space, the quality of the unit you ultimately select, plus the cost of labor and any other materials required. Units can cost a few hundred dollars (or less) and do not require expensive ductwork throughout the home, making them a much more affordable option than furnaces in terms of upfront costs. 
When it comes to operating costs, electric baseboard heaters serve as an efficient and clean option for zonal heating. Zonal heating offers independent temperature control to any room or space. The U.S. DOE reports that zonal heating can produce energy savings of 20 percent over whole-house heating, when you only need to heat the rooms you're in. 
Hot Water Baseboard Heater Installation Service in NJ
Are you considering installing hot water baseboard heaters? 
If you need hot water or electrical baseboard heater installation, maintenance or repair, Air Tech offers residential and commercial repairs 24-hours a day, 7-days a week.
Review our service area to find an HVAC technician near you.  As a local, family-owned company in Long Beach Island, we know the importance of quality customer service and dependability to our customers. That's why we offer competitive, flat-rate pricing and warranty-backed repairs.