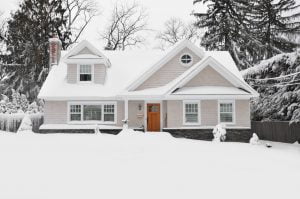 Vacant LBI homes are susceptible to significant damage if they don't take the proper steps to winterize home plumbing. If you own a rental property or vacation home in the Long Beach Island or Ocean County area that is vacant during the winter months, it is critical to winterize your home plumbing systems.
Want to keep your pipes from freezing this winter? Here's what you need to know.
Winterize Home Plumbing to Avoid Burst Pipes
Frozen pipes are costly and messy, but fortunately NJ homeowners can prevent this plumbing disaster from occurring by following a few tips before you pack up and leave. 
Shut off outdoor faucets and drain them. If water is left in the faucet, it will expand, leading to burst pipes (and expensive damage).

Check your water heater. Schedule a water heater maintenance check to ensure any potential repairs are completed before the weather hits below-freezing temperatures. 

Maintain an appropriate temperature. For any vacant home, it is advised to keep the temperature at or around 55 degrees Fahrenheit. This will help to prevent pipes from freezing and minimize the amount of energy spent heating an unoccupied home.

Schedule HVAC inspection. While it may not initially seem like

furnace maintenance

is an important element to preventing plumbing disasters in the winter, it is. If the furnace fails, the interior temperature of your home can drop drastically, especially at night. If this occurs and temperatures plummet below freezing, you could experience catastrophic pipe damage. 

Seal any drafts, especially those near pipes. Now is also a good time to consider adding additional insulation to areas such as the attic, garage and basement.

Insulate water pipes in areas that are unheated such as the crawl space or garage. 
The threat of frozen pipes is real for all New Jersey homeowners. Preparation is key.
So, don't wait. 
When Should I Winterize My Home Plumbing Systems?
The best time to winterize home plumbing systems is before the first frost. But, as we all know, New Jersey weather can be hard to predict. While the The Old Farmer's Almanac online predicts the first fall frost for NJ will be around November 6th, their prediction is only 30% probable. And considering we've seen a few rogue snowstorms hit before Halloween, it's safe to assume that playing it safe is the way to go. 
Instead of waiting for the cold weather to arrive, take steps to protect your home by scheduling winterization services while the weather is still mild.
Read More: DIY Winterization Tips>> 
Winterization Services for Home Plumbing
We get it. Life gets in the way, making it challenging to find the time (and energy) to winterize your home properly. 
The good news is that the plumbing experts at Air Tech can help. Air Tech Plumbing has been winterizing residential and commercial plumbing throughout the Ocean County for over twenty years. When our experts finish winterizing your home, rest assured that no water is left in your water lines and every plumbing precaution has been made…because we do it right the first time.
The peace-of-mind knowing you will return to a damage-free home in the spring is well worth the call to schedule a winterization service appointment today. Ready to winterize your home plumbing system? Call us at 609-494-1400 to learn more about home maintenance services for vacation homes in NJ.